How are Shield Medical Group Primary care doctors helping with Ambulatory Urgent Care?
We offer convenient, quality care right in your neighborhood. We aim to get you feeling better as soon as possible so you can return to your life.
What is Shield Medical Group
At the helm are board-certified doctors in Sebring, fl, with over ten years of experience, providing excellent personalized and high-quality care for their patients.
Shield Medical Group emphasizes diagnosing acute illnesses quickly and preventing urgent care visits or ER utilization requiring hospitalization.
It is important to diagnose your health issues quickly so that you are treated quickly.
How are the primary care doctors at Shield Medical Group helping with Ambulatory Acute Care (AAC)?
Shield Medical Group's primary care doctor focus on providing their patients with quality care 24/7.
Shield Medical Group is a leader in providing AAC for its patients.
Now more and more people have access to reliable and quality health services in a convenient timescale.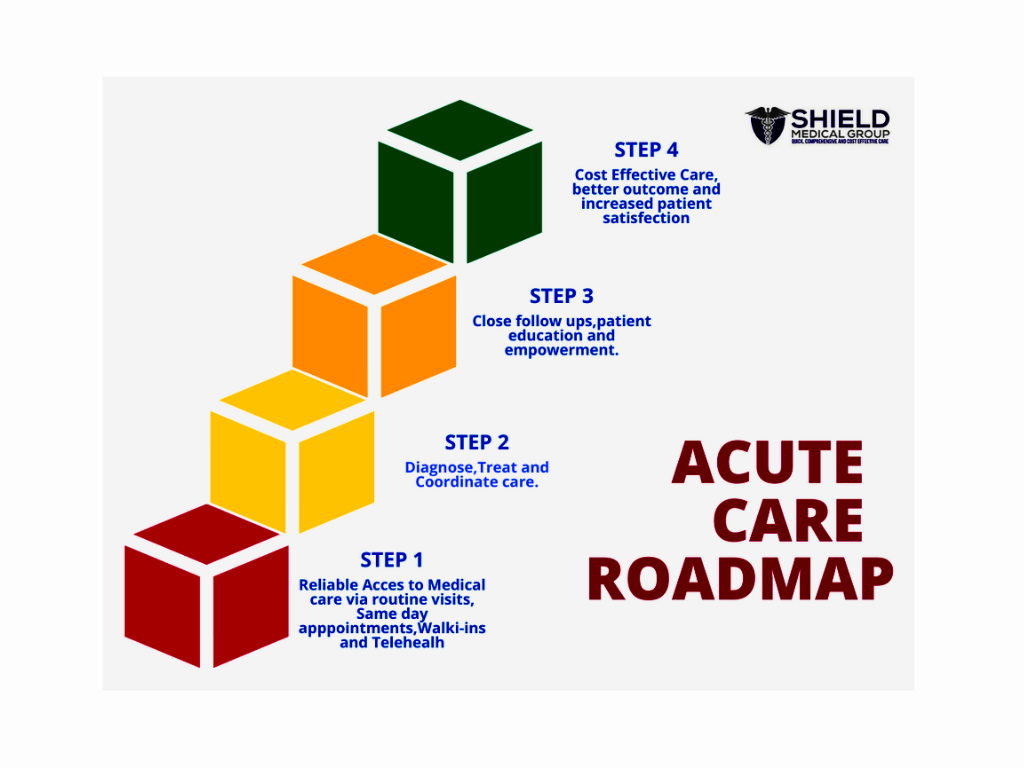 What are some of the benefits of AAC for patients who receive care from Shield Medical Group primary care doctors?
Shield Medical Group primary care doctors understand the importance of accessible, quality healthcare for all patients.
We are dedicated to making healthcare available on their terms through our introduction of alternative access care (AAC), such as same-day appointments, walk-ins, phone visits, and televisits.
Same-day appointments support short-turnaround scheduling for busy lives
Phone visits allow for medical advice at a distance so that helpful medical advice can be accessed promptly.
Televisits provide remote access to our skilled doctors without feeling the physical strain of driving or traveling.
How has Shield Medical Group's involvement in AAC helped improve patient outcomes?
Shield Medical has reduced urgent care visits and decreased ER visits and admissions.
This has had a tremendous positive impact on patient satisfaction and treatment outcomes while being cost-effective.
Shield Medical is proud to be pioneering an innovative solution that helps ensure each patient receives the best care possible.
What is AAC and Shield Medical Group's future in this care delivery model?
As an organization, We want to become the torchbearer for office-based access to reasonable acute care while maintaining a collective goal of reducing preventable hospital admissions and improving clinical outcomes and patient satisfaction.
Primary care practices need to be accountable to their patients 24/7.
America gets care 9 to 5 from their primary care physicians, and the rest of the time, people are left to either delay the needed care or depend upon costly hospital health care systems to deliver the care.
America needs an accountable primary care model.
We need to discard Fees for the service care model and adopt 100% value-based care for all specialties.
Doctors in sebring fl
Shield Medical Group's providers involvement in AAC has helped improve patient outcomes, and the future for AAC is looking bright.
If you're interested in scheduling an appointment at any location,
Please visit our web site page or call us at 863-236-9550.
We have compiled a comprehensive resource center to answers your questions about many conditions.
Our friendly, knowledgeable, and caring professional will listens and explain you.
We are accepting new patients in sebring fl. To find more ,talk to our staff. we are located on highway 27 in your area.
We Have been recommended by our patients. We rank very high in our specialty ratings.
Search and learn about us.